The New Year deserves a new you. Now's the perfect time to do a Gok Wan on your wardrobe; to finally peel off those skinny black jeans that have been bonded to your legs with cider since 2003; to bin the mascara (girls and boys); to donate the pointy shoes to a tramp and leave anything neon (so 2007) in a bundle outside the Sue Ryder shop.


(self-titled debut album)


Instead, this season you should mostly be wearing striped Ralph Lauren shirts, deck shoes, chino shorts, pastel sweaters (in a knot around the neck, naturally) and accessorising the whole look with a Moroccan-style keffiyeh or a red, gold and green hand-woven waistcoat. At least those are the signals we're getting from Vampire Weekend: inventors of the 'afro prep' style and the best band to come out of New York since The Strokes persuaded us to don those preposterously tight trousers in the first place.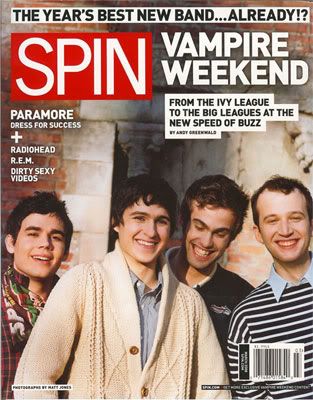 Vampire Weekend inhabit a very different New York to The Strokes' Lower East Side scuzz dens. They've got one foot on the cloistered campus of Columbia University, where they formed, and the other in Brooklyn's artier outer reaches. on home turf last summer they were playing their devastatingly charming afro-tinged indie-pop to a load of picnicking families munching vegan hot dogs in a municipal park. Not very rock'n'roll. But, compared to usual diet of Camden grot and slutty rave hedonism, listening to Vampire Weekend's music was like being caressed by a warm, tropical breeze.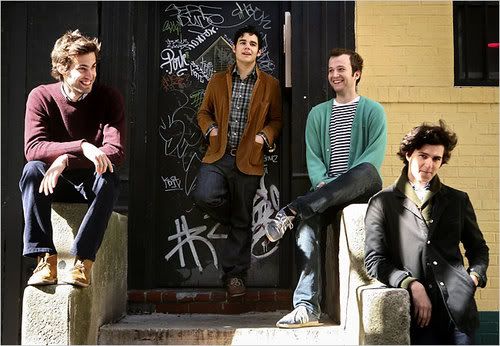 They've taken the wholesome, literate indie-pop of The Shins, cross-bred it with the camp post-punk of Franz Ferdinand and spiced it all up with exotic flourishes of soukous guitar, doing for African pop what Beirut did for Balkan folk.

There is simply nothing else out there that sounds quite like '

Oxford Comma

'. The prim choirboy harmonies – amplified by school-hall echo but without a hint of macho distortion – conceal an irresistible geek-pop tune played out over a delectable starched-collar groove. And have you ever before heard a lyric that elegantly rebukes grammar snobs and gives you a lesson in Tibetan geography before ultimately deferring to the wisdom of crunk rapper Lil Jon?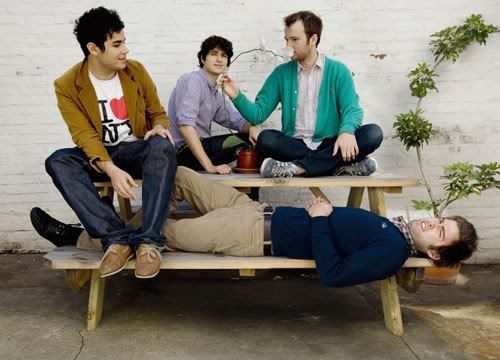 Vampire Weekend certainly like to make your brain whirr as your legs wobble, as you might expect from four such handsomely educated fellows, but they can also ambush you with unpretentious high-tempo hoedowns, such as the taut township groove of '

A-Punk

'.




Vampire Weekend are

funky

.Their strength is that, musically as well as sartorially, they're unafraid to plunder and repurpose styles previously considered naffer than Bluetooth headsets.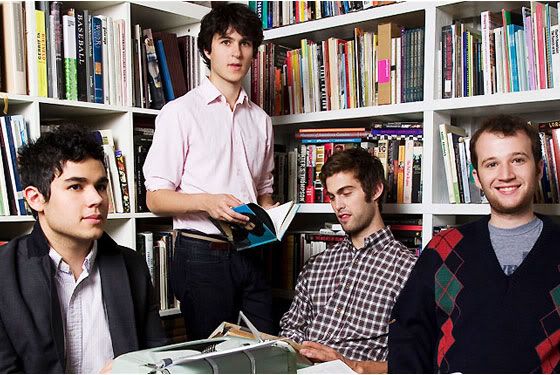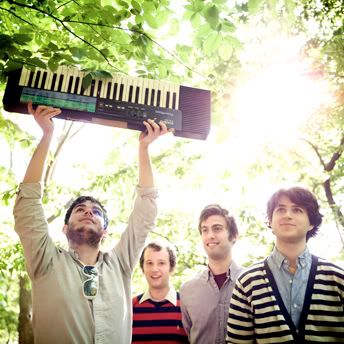 It's true that most of Vampire Weekend's songs seem to take place in a whitewashed Ivy League world where Blake and Walcott are acceptable Christian names, but singer Ezra Koenig is more Holden Caulfield than Frasier Crane, spearing the bores and the phonies in a language that's too worldly and witty to resist.




Indulge in '

Vampire Weekend

's vivid, foppish fantasy, which can still tell you plenty about the human condition, even if its lacrosse whites are rather suspiciously well-laundered.
i wish i was clever and witty enough to have written this review but alas, no.
excerpt from nme magazine( my favorite new music mag!)
for the full article follow this link
nme.com
sophomore album Contra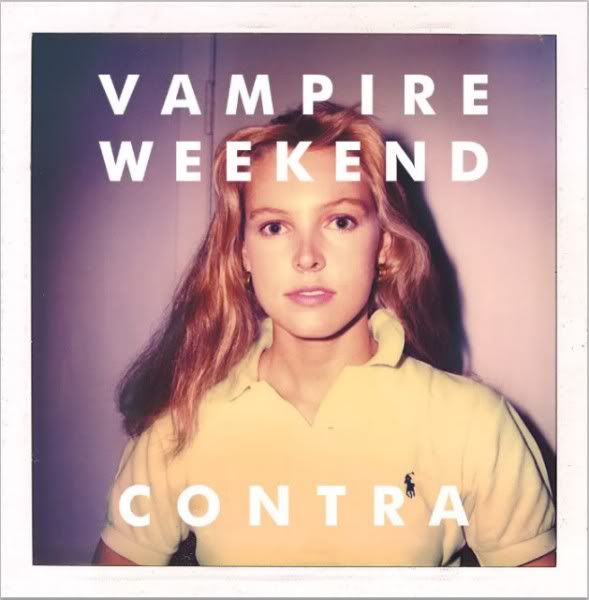 "

cousins

"
LOVE THIS VIDEO!
shout out to the '

tape guy

' who does the neon 3d art all over New york streets

(its such a coincidence that i just watched a documentary on street graffiti and he was in it; sorry 'tape guy' but i forgot your real name)


i promise to post a new fashion blog this thursday. PROMISE.
here on the east coast we are being hit with a record breaking winter blizzard.
(over 70'' already)

outside my apt window


i was trapped in the house for a week!! lost hours at both work and school. it was like the whole world stopped moving. everything was quiet for a couple days.



SHHHHHHHHHHHHHHHHHHHHHH





SIGH.I am really enjoying my life right about now. income taxes are coming in....

im a happy girl.

i just hope it doesnt "

blizzard

" again.

look how big the flakes are!!!
we're supposed to be getting more on this weekend. ugh. snow go away!! ugh!
see you soon guys.
angie