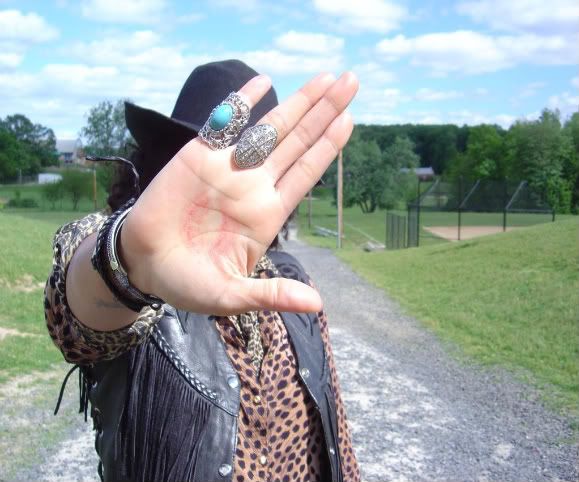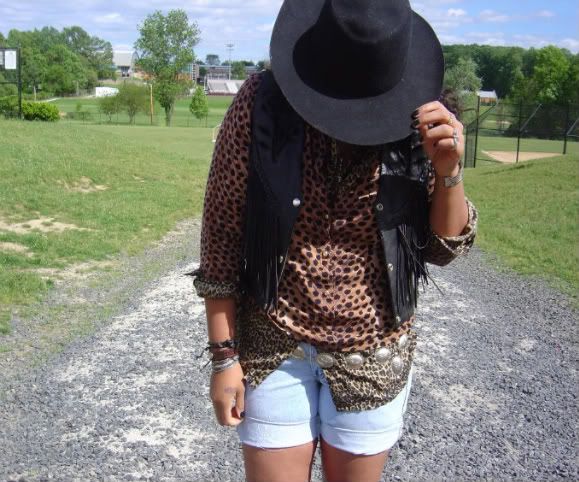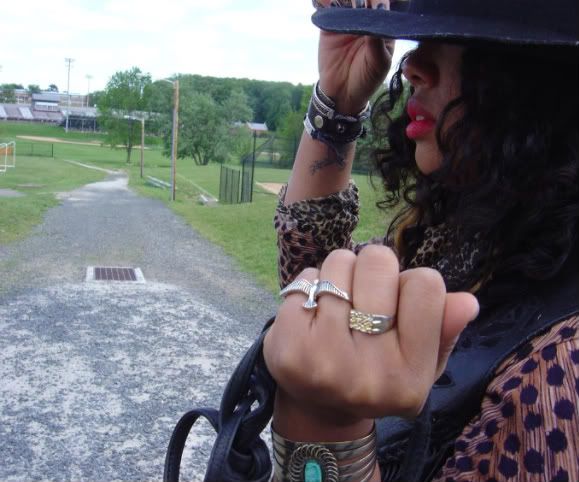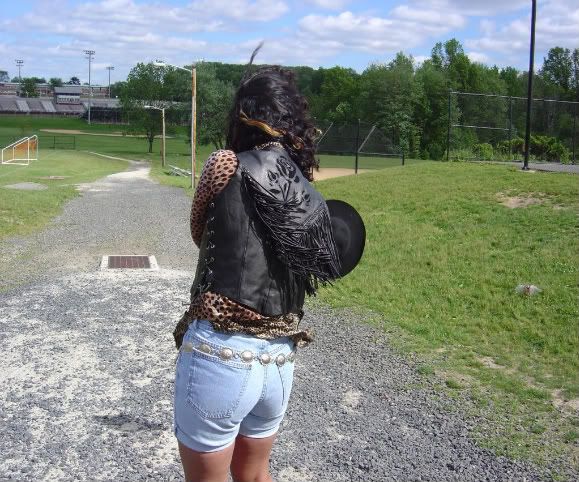 blouses and hat: vintage
leather fringe vest: thrifted vintage
shorts: vintage mabithe francois gerbauld
rhinestone cross ring: forever 21
silver and turquoise ring: forever 21
riveted belt: vintage

i know i just wore this vest but i love it way too much and it was the only one that worked for what i was going for. this woulda been one of my coachella outtfits had i went. oh how i wish i couldve gone and floated stylishy amongst the other concert goers. that wouldve been so much fun. this outfit makes me feel very much like a cowgirl biker chick. not a bad thing. ive been testing the waters lately, buying alot of really cool 'junk' from my thrift store and trying to clean out my closets and only keep the things that truly call me and make me feel truly connected with myself. what its come down to is that i just love all things fringe, bohemian, leather, denim, lace, suede, navaho-esq and alittle bit grunge.

this is the first time ive worn shorts in pretty much forever. please forgive my very unattractive backside. i know it needs some lifting(is that cellulite!) (some of you might laugh here but it is soo not funny). im officially on my hardcore diet and you guys can watch me whittle away (hopefully). also you can see that i now have blonde streaks. what do you think of that? ive told you before and im telling you again.....i get bored!! so with a combination of boredom and peer pressure, i bleached my hair. but literally a day later i hated it. i dont know. im ranting.
its 2:52am (my usual blog time) so my brain is dying.
3rd time in a row i had deadbrain. whatever.